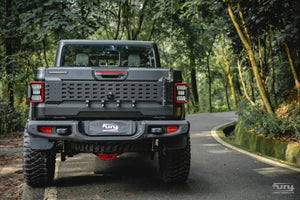 Multifunctional tailgate expansion panel for Jeep Gladiator JT
-Main Structure-
The expansion panel assembly composed of four parts, is more fit and firm. The engraving of any detail is impeccable.
Equipped with:
Removable Universal Hoop X4 / Velcro Strap X10 / Tactical Canvas Bag X2 / Eye Screw X4
- Features -
The camera bracket part, the non-destructive replacement installation. There will be not any problems with Fit and field of view.
Four universal hoop and eyebolts can be switched to multiple positions of the panel assembly according to personal preference to secure any tubular tool and equipment.
Multifunctional expansion panel, is the common equipment during off-road.The equipment, whatever size and shape, can be fixed with Velcro straps, and it is extremely convenient to disassemble and fix, needn't to open the box to search.
The Usage of the Bag
— Bare Board —
— Use effect display —
---