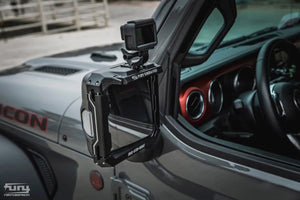 Multifunctional Rearview Mirror Rain Shield
Nowadays, with the popularity of portable camera equipment, extreme sports enthusiasts will be equipped with sports cameras to record their extreme moments, so that we also have more pictures that we can't see normally, and bring us completely different visual impact.
After a month of design and development, the team finally choose the rearview mirror as the best fixing point for the sports camera. The rearview mirror is also the best position to shoot the front and back of the team and the wilderness. Of course, we still design with ingenuity in terms of appearance.
The dovetail structure perfectly matches 80% of the sports camera bases on the market, making it easy to disassemble. With a 360°rotatable base and extension connecting rod, the shooting angle of view is wider. Of course, it is also a rearview mirror rain shield that enhances the temperament of the vehicle.
In the self-media era, our requirements for travel are different from those in the early years. We must not only have a better experience, but also record in a perfect way.
FURY multi-function rearview mirror rain shield, record wider wilderness
---