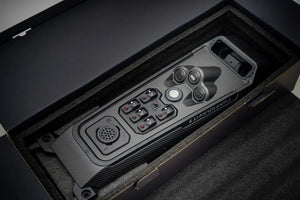 Gravity Series Overhead Control Module for Wrangler JL JT
"Overhead Control Module"
Still continuing the iconic splicing structure of the Gravity Series --- the fusion of carbon fiber and metal
- Main Part -
The materials used are still varied: dry carbon fiber/aluminum-magnesium alloy/glass/silicone
— Radio Separation Panel Mounting Area —
Applicable to the current most mainstream ICOM2730/Yaesu 6000R, and the factory is equipped with the necessary wiring harness for two radio models:
Separate panel extension cord/microphone extension cord/speaker extension cord
— LED lighting area —
To optimize the lack of lights in the front of the Wrangler, FURY's customized lights have the characteristics of low power and high brightness, and are equipped with independent switches to distinguish other switches.
— Control Switches —
The switches of the oblique surface is very sporty, and you can set the specific switch of the external equipment according to your own preferences. The design of pressing and rebounding feels very good, and the outer ring will light up a red warning light when it is turned on.
— Control panel switches —
The panel is composed of 5 mechanical switches and a light switch. The independent accidental touch partition design and independent indicator lights make the whole more equipped.
— Radio Speakers —
Independently designed radio speakers keep communications in the clearest and most reasonable range, regardless of sound quality or placement.
— Craftsmanship —
All carbon fiber part molds are metal molds
— Loading —
The Jeep as installation example is equipped with a black thermal insulation roof for matching colors, and you can match according to your own preferences.
— Control Angle —
Each functional zone is set in consideration of average height and ergonomic position.
---