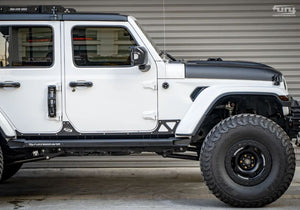 Gravity Series Carbon Fiber Side Step for Jeep Wrangler JL
The New Product of the Gravity Series ----- Side Step
Carbon fiber is still the main element of the Gravity Series side bar, Integrated molding using carbon fiber hot pressing technology.
— LED Light —
The front and rear of the bar are equipped with LED ambient lights, and the lens-like perspective design shows the beauty of the stitching of the equipment. Can be connected to dual flashing lights/Diurnal lights.
—  Carbon Texture —
Neat and smooth lines, simple and tough lines and proportions.
—— Produce Process ——
In order to ensure the accuracy of the splicing data of components of different materials, select the rigorous steel molds for production.
4mm metal guard board is inlaid at the bottom to effectively protect the side bar and car body.
— Loading Effect Display —
It fits perfectly with the side of the original car, is perfectly symmetrical with the front and rear mudguard, and is perfectly integrated with the side skirt of Engraver series.
— Don't equip with the Side Skirt —
---