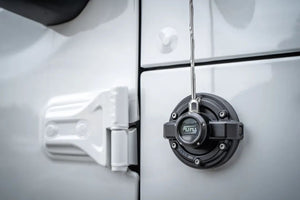 Gravity Series Aluminum Antenna Base Cover for Jeep Wrangler JK JL
"Gravitational Antenna Base Cover" ---- Continue to enhance the new series style
— Structure and composition —
The main antenna base cover is spliced into 5 parts. For enhancing the texture of the details, the logo and all the small letters are embossed.
— Anti-theft feature —
The disassembly and assembly of the antenna kit and the original antenna can only be disassembled by using the equipped anti-theft sleeve to solve the problem of losing the antenna.
— Matching and coordination —
The antenna base cover is matched with the perspective effect and structure of the Gravity tank cover, and has a high degree of coordination.
— Loading effect —
Perfect fit the car body, simple appearance, perspective glass with advanced sense
---