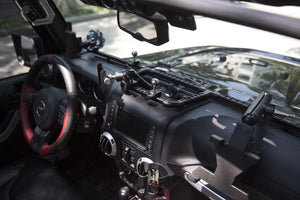 Fury Engraver New Product Armory Series "Verson Central Control Guide Rail" For JK
The "central control integrated rail" Picatinny's full-track design allows any equipment to be placed in your most convenient and eye-catching position and angle, and your cockpit will be more professional.
 The military-style Picatinny full-track structure allows any slider to be moved to any position of the central control at will. The 1-inch ball head can expand any bracket in addition to Fury's independent mobile phone holder and hand microphone holder. , Really adjust the position, orientation, and tilt angle without dead angles, and perfectly solve the chaotic and disorderly erection of various navigation equipment and communication equipment in the cockpit, and the problem of unstable vibration during the off-road process, and truly integrate all equipment Fixed role.
Armory Series "Verson Central Control Guide Rail" Effect Atlas
Armory Series "Verson Central Control Guide Rail" Still Life Atlas
---