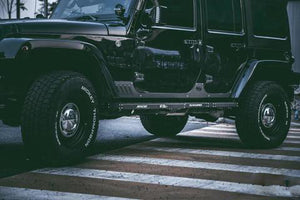 Fury Engraver Armory Series, Side skirt & Side bumper
In the Wrangler circle, riders who like the style of plain cars are more pursuing the feelings of Wrangler. The Fury Engraver Armory series can reach quite a few people deep in their hearts. The military side guards and side bars we will introduce today are a good example.
The side skirts have a certain protective effect on the body. Its most important role is to play the role of matching the side bars and the body. There will be a 45° diagonal gap between the side bars or the pedal body and the side bars. People with obsessive-compulsive disorder watch It will be very uncomfortable. There is a beautiful side skirt connection, which will make the side bars better integrate with the body, and the rivet feeling of the decorative screws will be more tough. The non-destructive installation of Fury Engraver Armory side skirts is a highlight in the industry. Different from the conventional installation method, it uses M3 glue to fix it, avoiding damage caused by drilling holes in the body, and making the side skirts easier and more convenient to install.
In addition to the role of the pedal, the side bar can protect the body well, reduce the collision of stones and the body during the off-road process, and prevent  it from deformation. The structure fully takes into account the weight and fluctuations of the personnel when getting on and off the car. The inner groove design perfectly solves the problem of rainy days slip. The cross-checkered design is taken from military vehicles, giving this side bar a more rigid atmosphere, which can well match the front and rear bars of the military version.
The "RESCUE" on the side bar reveals that this side bar is destined to be different. It is not as simple as a foot pedal. It can really achieve rescue. Two 60X15X5 escape boards can be removed on both sides of this side bar. , Some people call sand  board. This is the most commonly used rescue tool in mud, sand, and gravel terrain. You don't need to put it in the trunk anymore.
---