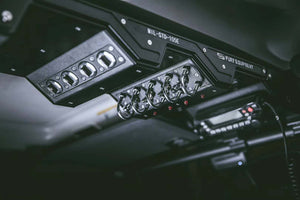 Fury Engraver Armory Control Module
I believe that the people who very knowledgeable about Wrangler will be very excited when they see this one. As far as cars are concerned, this design appeared in the military. The most common similar structure is actually not a car but an airplane. The military control module not only improves the overall interior decoration by a large level, but also integrates many functions, which are also problems that off-road players currently need to solve.
First of all, the leading end of the control box is an 8 ohm 5 watt loudspeaker. This speaker is used to connect to the car radio. At present, everyone's desk speakers are either hidden under the seat or in the trunk. There is even more outrageous. In the armrest box, these positions not only affect the beauty, but the important thing is that you can't hear the call of your teammates during the journey or when playing music. The military version of the control box leaves the best front position of the entire integrated system to the radio speakers. Not only will it not affect the beauty, but the sound source is just above your head. Let you receive teammate information more clearly. The product is equipped with a speaker extension cord to directly connect to the radio host without modification.
In the back, there is an area reserved for the installation of the separation panel of the car radio. The current factory reservation is reserved according to the factory separation panel bracket of the "Yaeshu 7900" because this is the most cost-effective and most used model. Other models can also be expanded, but some small DIY changes are needed. It should be a small problem for you guys of the car gods. Depending on your personal habits, the hand microphone can be set on the side of the control box or in the central control. The product comes with a hand microphone extension cable.
 The next area is a lighting lamp. The front row lighting of this model of Wrangler with a problem that the two faint small lights on the reflector are basically negligible. The night lighting effect is very poor and some years old cars even not with these two small lights. The lighting system of the control box perfectly solves this problem. It is more convenient to use at night and is controlled by a switch for the main and co-pilot.
The next area is the most controllable toggle switch panel panel, which consists of 2 anti-misoperation toggles and 2 conventional toggles. Each switch group has an anti-collision ring separated. The purpose of this design is to avoid some mistake of operations.
The area further down is a knob switch panel, four knob switches with lights make the whole control system more textured. It can be connected to an external air pump, spotlight, differential lock and other equipment, set according to personal habits.
---