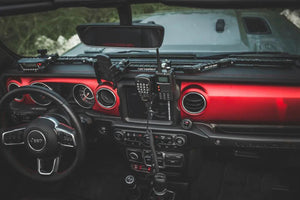 Fury Engraver Armory Series Center Control Guide Rail For JL
The new products pushed in this issue must be familiar to you, because we released the JK version of the guide rail in the military version in early May, and we will present the JL version to you today after four months. Why is it taking so long? Someone will ask. Because the fixing structure of JL is different from that of JK, we are constantly trying JL's more reasonable bracket fixing points, but also to maximize the retention of the military equipment sense of the guide rail. We will explain it in detail below.
The JL version is still Picatinny's full track design, running through the entire center console. Any device can be slidably fixed to your most comfortable and pleasing position and angle, and the biggest advantage of this military structure design is that it can be fixed very firmly and reliably.
At present, there are an endless stream of fixed brackets on the market, including non-full-track designs, foreign versions of full-rail profiles, and many other versions. We have tested the stability of the approximate brackets, and there are varying degrees of vibration and swing on off-road and bumpy roads. It also has varying degrees of impact on driving sight. Moreover, the angle and position of the erection equipment are poorly adjustable, and they can only be adjusted in a small range or cannot be adjusted. The installation structure of some versions of the product is not very reasonable. Long installation time will cause varying degrees of damage to the cortical surface of the center console.
The JL version is still installed in the original position without damage, and will not cause any damage to the surface of the center console. The measured stability is also very reliable. We must believe that the military's design must be highly rational. This design is the longest appearing in various light and heavy weapons.
The JL version is still equipped with a 1-inch ball head at the factory. In addition to expanding Fury's independent mobile phone holder and handheld microphone holder, it can also expand any device holder, truly adjusting the position, orientation, and tilt angle without dead angles. , And perfectly solves the problem of inconvenience in setting up various navigation equipment and communication equipment in the cockpit.
After 4 months of launching the JK version on the market, we have received a lot of valuable feedback on improvements. This time we optimized the JL version as follows. 1. Optimized the abnormal noise problem of the mobile phone holder in the non-installed state, matching the 15W wireless charging mobile phone holder (supporting all wireless charging protocols in the market), 2. The hand microphone fixed position bracket has been tightened and optimized, 3. The factory is equipped with a radio separation Panel fixing bracket.
---