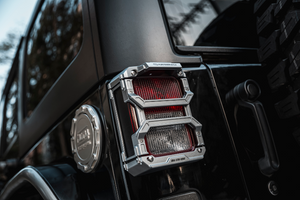 Awaken Series Taillight Cover for Jeep Wrangler JK JL
The work pushed in this issue is the succession of the rear-view mirror rain shield-"Awaken Series taillight cover". There is only one purpose,Cure your "obsessive-compulsive disorder". "Awaken Series" has always been a style that Fury fans like very much in the recent stage. The taillight cover released this time will meet the needs of JK and JL owners at the same time. The main structure and design elements of the JK version and the JL version are not much different.
Why said it is "connecting the past and the future"? The structural style of it match the rear-view mirror rain shield very much. The front and rear echo of the rear-view mirror rain shield and the tail light cover will make the style of the whole car uniform and improve its temperament.
Let's start with the JL version:
The split design of bolt anchor point pipe string can fully reflect the sense of mechanical structure. With the "awaken" element, punk is mixed with industrial machinery. The overall design pays attention to proportion and is simple and decent. The structure of the design can be fully integrated with our taillight structure and coordinated.
Its design also perfectly avoids the interference position of the rear door hinge of the co-pilot taillight.
The installation of the JL version is also a highlight. The traditional tail lamp cover installation must be disassembled, which is very cumbersome. The installation of the JL version is the same as the rearview mirror rain shield, spliced and non-destructive installation, simple and very stable.
Next is the introduction of the JK version:
The installation method of the JK version is slightly different from that of the JL version. The original JK version has a tail lamp fixing hole. The difference from the JL version is only four more screw fixing points. There is also no need to remove the taillight during installation.
In addition, the difference between the JK and JL versions is that the screw hole above the lampshade is reserved. This screw hole can expand an auxiliary lamp as a reversing light, which can solve the problem of insufficient brightness of the JK reversing light. The body structure of the JL version is not suitable for retrofitting, so we did not reserve this hole in the JL version.
The rectangular hollow design on the side is to avoid the reflective strips on the side of various taillights on the market. This lampshade is suitable for all taillights, Except for the round one.
Continuing the manufacturing process of the FURY engraver, every part is still meticulously crafted, every detail can withstand the test of a magnifying glass, and the line outline is clear and clean.
---