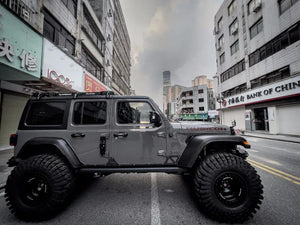 Awaken Series Front bumper and Rear bumper
Awaken Series front and rear bumper are made of lightweight materials and are integrally spliced without welding.
Started with the introduction of the front bumper, the overall design continued the style of the Awaken series. It is still a perfect combination of structural design and fine carving craftsmanship.
Equipped with a skid plate, the coordinated design of the upper and lower proportions makes the Jeep more robust and natural.
At the same time, it is also equipped with a pull-up license plate rack.
 The 6 radars are inlaid design and are perfectly integrated with the main body. Both the fit and the integrity are upgraded on the basis of the original bar.
The wrap angle on both sides uses a mechanical splicing structure, and the design of the linkage rod also makes the overall full the feeling of mechanical and more powerful.
Below is the loading effect of the front bumper. We can see that this front bumper is consistent with the width of the front face. The spliced wrap angle on both sides also perfectly matches the ratio of the original wheel eyebrows, and the front is more robust and refined.
The following is an introduction to the rear bumper. The design elements of the rear bumper are the same as the front bumper, and the radar installation method is the same as that of the front bumper. The only difference is that the rear bumper has only 4 radars, which is 2 less than the front bumper. The hardcore awakening of the front bar has the effect of responding to the front and back.
The design structure of the wrap angle is unified with the front bumper, and the installation positions of the radars on both sides are reserved for three adjustable auxiliary lamp installation holes without losing the integrity of the shape.
We care about every detail and are equipped with tow hooks. While meeting daily needs, the wholeness of the tail is also fuller.
The connection of the beam guard is the same as the front bumper, and the structure is tough and simple.
Below is the loading effect of the rear bumper, giving the rear a full sense of equipment. The whole set of Awaken Series enhances the temperament without losing the tough breath.
---