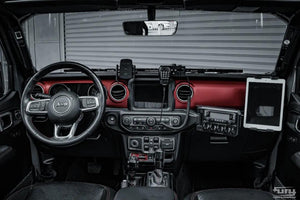 Awaken Series control panel kit for Jeep Wrangler JL
This new product still a product that is the exclusive JL version of hardcore interior components -------- "Awaken Series" control panel kit.
Let's give you a detailed introduction to this product.
The first is the main part. The control panel and the multifunctional armrest are designed as an integrated structure, which solves the functional pain points while showing a tough overall appearance.
Product equipment: tablet computer stand; 1 inch expansion ball head; adjustable connecting rod; hand microphone extension cable; radio separate panel extension cable; maximize the use of limited space.
The control panel is equipped with a four-way auxiliary switch system. The radio station is set up to adapt to the radio of Yaesu 7900/7900R/icom2730 to meet the essential needs of daily off-road.
Hidden cable structure makes the overall layout cleaner.
While showing the hardcore style, the details and texture are consistent with the interior of the original car, and the splicing structure is coordinated with the original car's central control and integrated into one.
The opening and closing of the control panel can be adjusted from 0 to 90 degrees, reasonable space utilization, and convenient main driver control position, which makes the cockpit more "racing" competitive feeling.
The armrest is equipped with a tablet computer bracket, and the multi-hole position is adjustable. It can be adjusted to the most ideal angle whether the main driving position uses navigation or the auxiliary driving position audio-visual system.
Three forms---- Closed / opened / full load
Every innovation of FURY is designed on the basis of practicality and beauty.
---