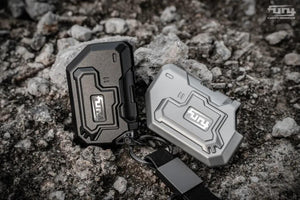 Awaken Series Car Key Cover For Jeep Wrangler JL
This product is still divided into two colors, samurai black and titanium gray. Continuing the sense of equipment of the Awaken Series , showing a tough temperament.
Compared with the previous Armory Series, this key case is lighter and thinner and has a better grip. It matches perfectly with the original car key data and has a rich texture.
The main craft this time is still Fury's iconic CNC carving. It adopts a three-layer component splicing design, the back is inlaid with embossed mirror LOGO, and the simple outline matches the tough lines, which is classic and durable.
The hollow design is perfectly matched with the reserved pendant hole position of the original key. The opening and closing design of the original car key on the side is more reasonable and does not affect the remote signal transmission.
Equipped with a Suede key bracelet with the "Fury Engraver" Logo, which further enhances the overall texture.
---