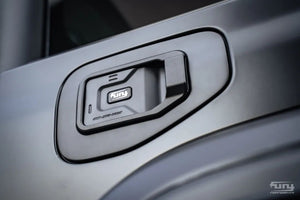 Aluminum Tank Cover for Jeep Gladiator JT
— JT Series New Product —
"JT Tank Cover"
- Main Structure -
The main curved surface structure is made of nylon in consideration of the fit with the original car. The inlaid handle part and the FURY badge are still metal engraving.
The embossed FURY badge is inlaid with the main body, with a strong sense of lines, neatness and a sense of design.
Regarding the product color, the default nylon matte black color, the structure of each layer of the fuel tank cover is a detachable assembly design, which is convenient for everyone to paint and assemble any color according to their own body color or personal preference.
— Loading Effect —
The tank cover including the main body swing arm are in the assembled state. Non-destructive splicing installation.
【In closed state】
【In opened state】
---